Subject Coverage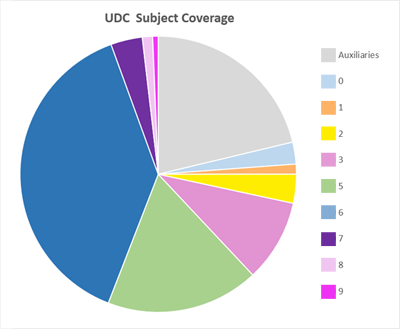 Because of the UDC's analytico-synthetic nature the number of subdivisions does not always reflect the true level of detail with which one can describe a document's content. Nevertheless, potential UDC users are often interested in the number of available classes in certain subject areas.
The pie chart on this page is a graphical representation of the distribution of subjects in the current MRF database (over 70,000 in 2012). The graph illustrates how much space pure sciences and technology, classes 5 and 6, occupy in the system. Another notable feature of the UDC concept distribution is the amount of common auxiliaries (coloured in grey) which are context-free concepts that are provided to be combined with all fields of knowledge.
The table below details the number of UDC subdivisions per subject area. The statistics reflect class distribution in the 2012 MRF database.
| | | |
| --- | --- | --- |
| Table | Description (shortened) | Count |
| | Common auxiliaries | |
| Ic | Common auxiliaries of language (Table 1c) | 1625 |
| Id | Common auxiliaries of form (Table 1d) | 362 |
| Ie | Common auxiliaries of place (Table 1e) | 10942 |
| If | Common auxiliaries of human ancestry, ethnic grouping and nationality (Table 1f) | 37 |
| Ig | Common auxiliaries of time (Table 1g) | 454 |
| Ik | Common auxiliaries of properties (Table 1k -02) | 830 |
| Ik | Common auxiliaries of Materials (Table 1k -03) | 152 |
| Ik | Common auxiliaries of Relations, processes (Table 1k -04) | 338 |
| Ik | Common auxiliaries of Persons (Table 1k -05) | 270 |
| | Main table | |
| 0 | KNOWLEDGE. MANAGEMENT. COMPUTER SCIENCE. INFORMATION... | 1810 |
| 004 | Computer science and technology. Computing. Data processing | 794 |
| 005 | Management | 284 |
| 1 | Philosophy. Psychology | 825 |
| 159.9 | Psychology | 293 |
| 2 | Religion | 2397 |
| 3 | Social Sciences | 6797 |
| 30 | General. Statistics. Sociology. Demography. Politics | 251 |
| 311 | Statistics as a science. Statistical theory | 41 |
| 314 | Demography. Population studies | 36 |
| 316 | Sociology | 384 |
| 32 | Politics | 253 |
| 33 | Economics | 1988 |
| 34 | Law | 1830 |
| 35 | Public Administration. Government | 872 |
| 36 | Public Welfare | 579 |
| 37 | Education | 229 |
| 39 | Folklore. Etnography | 194 |
| 5 | Mathematics. Natural Sciences | 12623 |
| 50 | Environment science | 49 |
| 51 | Mathematics | 1661 |
| 52 | Astronomy | 617 |
| 53 | Physics | 1876 |
| 54 | Chemistry. Mineralogical Sciences | 3280 |
| 55 | Earth Sciences | 1452 |
| 56/59 | Palaeontology. Biological Sciences | 3687 |
| 6 | Applied Sciences. Medicine. Technology | 27231 |
| 60 | Biotechnology | 42 |
| 61 | Medical Sciences | 3170 |
| 62 | Technology in general. Heat Engines. Hydraulics | 10313 |
| 621.3 | Electrical Engineering | 1699 |
| 621.4/.6 | Heat Engines. Pneumatic Energy. Fluids Handling | 478 |
| 621.7/.9 | Mechanical Technology | 1487 |
| 622 | Mining | 680 |
| 623 | Military Engineering | 618 |
| 624/627 | Civil Engineering | 1519 |
| 628 | Public Health Engineering | 479 |
| 629 | Transport Vehicle Engineering | 1781 |
| 63 | Agricultural Sciences | 2286 |
| 64 | Home Economics | 388 |
| 65 | Communication and transport industries. Accountancy. Business management. Public relations | 1384 |
| 654 | Telecommunication and telecontrol (organization, services) | 96 |
| 655 | Graphic industries. Printing. Publishing. Book trade | 213 |
| 656 | Transport and postal services. Traffic organization and control | 501 |
| 657 | Accountancy | 177 |
| 658 | Business management, administration. Commercial organization | 252 |
| 659 | Publicity. Information work. Public relations | 144 |
| 66 | Chemical Technology | 4327 |
| 67/68 | Various Industries and crafts | 4615 |
| 69 | Building (construction) trade. Building materials. Building practice and procedure | 705 |
| 7 | THE ARTS. RECREATION. ENTERTAINMENT. SPORT | 2608 |
| 71 | Physical planning. Regional, town and country planning. Landscapes, parks, gardens | 134 |
| 72 | Architecture | 115 |
| 73 | Plastic arts | 39 |
| 74 | Drawing. Design. Applied arts and crafts | 68 |
| 75 | Painting | 14 |
| 76 | Graphic art, printmaking. Graphics | 13 |
| 77 | Photography and similar processes | 722 |
| 78 | Music | 371 |
| 79 | Recreation. Entertainment. Games. Sport | 882 |
| 791 | Cinema. Films (motion pictures) | 128 |
| 792 | Theatre. Stagecraft. Dramatic performances | 83 |
| 793 | Social entertainments and recreations. Art of movement. Dance | 19 |
| 794 | Board and table games (of thought, skill and chance) | 39 |
| 796/799 | Sport | 612 |
| 8 | LANGUAGE. LINGUISTICS. LITERATURE | 849 |
| 80 | General questions relating to both linguistics and literature. Philology | 84 |
| 81 | Linguistics and languages | 417 |
| 82 | Literature | 347 |
| 9 | GEOGRAPHY. BIOGRAPHY. HISTORY | 458 |
| 902/908 | Archaeology. Prehistory. Cultural remains. Area studies | 52 |
| 91 | Geography. Exploration of the Earth and of individual countries. Travel. Regional geography | 77 |
| 92 | Biographical studies. Genealogy. Heraldry. Flags | 68 |
| 929 | Biographical studies | 67 |
| 930 | Science of history. Historiography | 10 |
| 94 | General history | 249 |