Aida Slavic, UDC Editor-in-Chief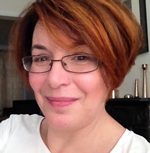 Aida Slavic is the editor-in-chief of the Universal Decimal Classification, owned by the UDC Consortium in The Hague (Netherlands). She is responsible for the development and the maintenance of the scheme and is editor of the official UDC publication Extensions & Corrections to the UDC, chief editor of the UDC Online Hub and project manager of Multilingual UDC Summary. Aida is also an adjunct Associate Professor in the Department of Information and Communication Sciences at the University of Zagreb, Croatia where she teaches on the postgraduate courses of indexing languages, knowledge organization and information retrieval.
Aida holds a doctoral degree in library and information studies from University College London and Masters and a Bachelor degrees in library and information science from University of Zagreb. Her research interests are in the area of knowledge organization, in the use of classification in resource discovery and modelling and formatting of controlled vocabularies for their use in a networked environment, subject access and subject metadata.
Aida serves on the Editorial Board of the Knowledge Organization journal, is member of the Scientific Advisory Council of the International Society for Knowledge Organization and member of the Standing Committee of the IFLA Subject Analysis and Access Section. She is Vice Chair of the British Chapter of ISKO (ISKO UK) and member of the executive committee of the Low Countries Chapter of ISKO. Aida participated on the programme committees of a number of international conferences related to metadata and knowledge organization (Dublin Core, ISKO, NKOS Workshops) and was a programme chair of International UDC Seminars, a series of biannual conferences on classification research and application 2009-2017. She is a recipient of the 2015 World Library Leaders Professional Excellence Award from Satija Research Foundation in Library and Information Science.
Highlights 2022:
Publications:
ORCID ID: 0000-0002-1934-6824
Email: name.surname AT udcc.org